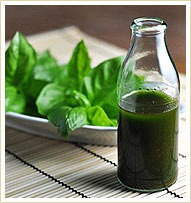 Basil Oil
Product Description
The Health Benefits Of Basil Essential Oil Include Its Ability To Treat Nausea, Motion Sickness, Indigestion, Constipation, Respiratory Problems, Diabetesetc. Basil Oil Is Also A Good Source Of Vitamin A, Magnesium, Potassium, Iron And Calcium.
Leaves And Seeds Are The Important Medicinal Parts Of This Herb, Which Has Gained Prominence In Recipes All Over The World. Basil Essential Oil Has Been Popular In Europe, Central Asia, India And Southeast Asia. The Oil Was Extensively Used For Culinary Purposes In The Mediterranean Region And Still Forms The Active Ingredient Of Many Italian Recipes Such As Pesto. It Is Also Used In Making Pasta And Salads.
Basil Has Been Widely Used By Ancient Cultures Such As India For Medicinal Purposes (Ayurveda). The Herb Was Used For Diarreha, Coughs And Mucous Discharges, Constipation And Indigestion, And Skin Diseases.
Health Benefits Of Basilessential Oil Include The Following:
o Cosmetics: Basil Essential Oil Is Used Topically To Massage The Skin. It Enhances The Luster Of Dull Looking Skin As Well As Hair. As A Result It Is Extensively Used In Many Skin Care Supplements That Claim To Improve The Tone Of Your Skin. It Is Also Used For Acne And Skin Infections.
o Digestion: Basil Essential Oil Is Also Used As A Digestive Tonic. Since Basil Oil Has Carminative Properties, It Is Used For Treating Indigestion, Constipation, Stomach Cramps And Flatulence. It Provides Immediate Relief From The Gas In Your Stomach And Intestines. It Is Also Colic And Hence Is Used For Bowel Pain.
Cold: Basil Essential Oil Is Effective In Providing Relief From Cold, Influenza And Associated Fever. Due To Its Antispasmodic Nature, It Is Used In Case Of Whooping Cough.
Respiratory: Apart From Its Usage In Cough, It Is Used For Asthma, Bronchioitis, And Sinus Infections.
Infections: Basil Oil Is Good For Treating A Variety Of Infections Such As Cuts, Wounds, Skin Infections, Bladder Infections, Etc., Due To Its Antibacterial Properties. It Is Also Good For Viral Infections.
Stress Disorder: Basil Essential Oil Has A Refreshing Effect And Hence It Is Used For Treating Nervous Tension, Mental Fatigue, Melancholy, Migraines And Depression. Due To This Calming Nature Of Basil Essential Oil. It Is Widely Used In Aromatherapy. It Regular Use Gives Mental Strength And Clarity.
Blood Circulation: Basil Oil Improves Blood Circulation And Thus Helps In Increasing The Metabolism.
Pain Relief: It Is Analgesic And Provides Relief From Pain. Hence It Is Used In Arthritis, Wounds, Injuries,burns, Brusies, Scars, Sports Injuries, Sprains, Headaches, Etc.
Eye Treatment: It Is Ophthalmic And Hence Relieves Bloodshot Eyes.
Anti Vomiting: Basil Essential Oil Can Be Used As An Anti Vomiting Agent In Motion Sickness And Many Other Vomiting Cases.
Trade Information
100-1000 Per Month

1 Months