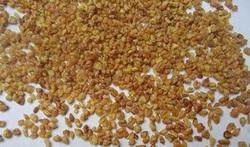 Bitter Buckwheat Extract
Product Description
Latin Name: Fagopyrum tataricum (L.) Gaertn
Part Used: Seed
Specification: 20%-60% flavone
Appearance: Brownish yellow fine powder
Test Method: By UV
About Bitter Buckwheat
Bitter Buckwheat is one rare kind of medical and edible cereals which contains seven big nutrients and is known as " the king of five cereals".
It contains seven prominent nutriment which is good for health.
It also has the effects of antineoplastic, anti-inflammatory, antioxidation and inhibiting renal calculus.

Function and Application
1.Bitter Buckwheat extract can regulate the blood lipid, blood pressure and decrease the blood sugar.
2.Bitter Buckwheat extract has the effects of prevention and treatment of cardiovascular disease.
3.Bitter Buckwheat extract can also have the effects in preventing brain-aging, antibacterial sterilization and anti-cancer.
4.Bitter Buck wheat extract can protect the gastric mucosa, and repair brain damage.
5.Bitter Buckwheat extract can promote insulin secretion and improve the affinity of insulin receptor.

Application: Food; Health care products